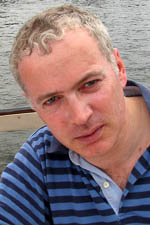 Des Cannon
I liken photography to life, a collection of moments. I try to capture moments that interest or inspire me whenever I can, with whatever I have to hand. That's a Canon 7D or Ixus 107, or an iPhone 4S at present.
I like to photograph people, places or things mainly, in low light preferably, at the right aperture, ISO & shutter speed hopefully.
My Wall is a space for Members to show off some of their own favourites from their personal Flickr PhotoStream. If you are a member and want your own Wall space here is what you have to do. We need your name, a passport style photo of you, your Flickr account name and a few lines describing yourself and your photographic interests or influences. Email the details to us here: webmaster@offshoot.ie
Let us know if you have any questions or are interested in joining the club by leaving us a message.
Saint Brigid's Girls National School