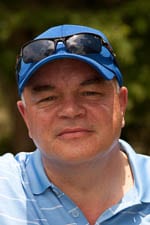 Ken Dobson
I'm originally from Donegal and now settled in Goatstown, Dublin. My first SLR was a manual Praktica MTL 50 with 42mm screw in lens. It wasn't a particularly great camera but it did help me learn the basics.
I moved to Canon cameras in 1992 and currently have a Canon 50D with a mix of Canon lens. I'm really delighted that I have joined Offshoot this year. The club has provided opportunities to try areas of photography that I had never considered in the past and I have participated in a number of really enjoyable events and outings.
Monday nights are now something to look forward to. I particularly enjoy travel and landscape photography and I am starting to develop an interest in night and street photography.
My Wall is a space for Members to show off some of their own favourites from their personal Flickr PhotoStream.
If you are a member and want your own Wall space here is what you have to do. We need your name, a passport style photo of you, your Flickr account name and a few lines describing yourself and your photographic interests or influences. Email the details to us here: webmaster@offshoot.ie
Let us know if you have any questions or are interested in joining the club by leaving us a message.
Saint Brigid's Girls National School