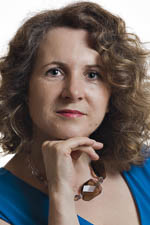 Olive Gaughan
I've always had an interest in art of some form, and have had a camera of my own since I bought my first in the 1970s with my 1st Holy Communion money.
I discovered photography as a hobby in 2007, and it has since become an obsession! My particular photographic interests are landscape and portraiture. I'm a country girl at heart, and landscape brings me outdoors. I particularly enjoy being up for sunrise, to witness the light and colours transform the landscape and wake the world up. I'm currently focusing on slow exposure landscapes, where time captures a bit of magic in sea and clouds.
I've been a member of Offshoot since 2009, and have enjoyed every minute of it!
My Wall is a space for Members to show off some of their own favourites from their personal Flickr PhotoStream.
If you are a member and want your own Wall space here is what you have to do. We need your name, a passport style photo of you, your Flickr account name and a few lines describing yourself and your photographic interests or influences. Email the details to us here: webmaster@offshoot.ie