On 9th May the Open Print competition was judged by Daragh Muldowney.  You may recall he gave us two talks previously (rock pools around Ireland and a trip to Greenland).  Daragh provided a very interesting and useful  commentary on the images presented.
Our appreciation to Daragh for a great evening and many thanks for all the entries in both Level 1 and Level 2 categories.
Congratulations to all who achieved a placing or commendation.
Below are some images from the judging on the night: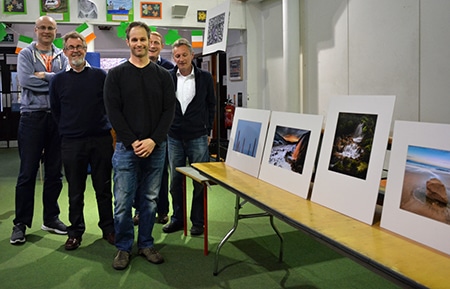 Level 1
1st – Shimmer by Robbie O'Leary
2nd – Standing Room Only by Gavin Ross
3rd – Hidden Waterfall by Kevin Foley
Highly Commended – Old Head Beach by Kevin Foley
Highly Commended – Spring Water by George Balmer
1st – Skunk Cabbage by Wendy Hannan
2nd – Island Castle by David Whitaker
3rd – Christmas Shopping by Matt O'Brien
Highly Commended – Breaking Light by Janet Wippell
Highly Commended – Hollywood by Emily Gallagher