This isn't the Curragh or Leoparstown; it's horses racing over fences across fields. Facilities are basic but from our viewpoint there is access to all areas – well almost.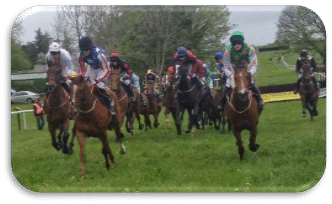 The first of six races is at 13:00 so we will meet at 12:30 at the course. The journey will take you just over 1½ hours and when you get to Tinahely the course should be advertised. Check out http://www.p2p.ie/fixtures.php.
You will need a telephoto lens preferably with a minimum of 70-200mm and a general purpose lens for saddling / enclosures / punters. A monopod will help and rain gear, warm clothing and a pair of stout shoes or boots. Bring a change of footwear as it will be very muddy!
For more details contact outings@offshoot.ie.
SAFETY ON OFFSHOOT OUTINGS AND EVENTS
It's easy to become distracted when taking photographs. Use common sense, take responsibility for your own safety and then go shoot and have fun.