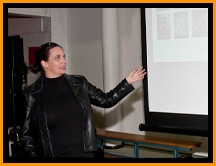 Lorraine Gilligan spoke to us on Monday 23rd April about her portrait, nude and fashion work for her IPF Distinctions culminating with the awarding of her Fellowship for Drama Queens in November 2011. She went through conceptual development via her Licentiate and Associate panels. Her inspirations included Helmut Newton and her husband and assistant Ciaran Whyte.
Lorraine spoke about the selection of experienced models and dancers – and working with them to bring her ideas to life using their posing and expressive skills combined with hair styling, wigs and elaborate make up. Her technique involves a mix of natural light, a reflector, and a single flash in a soft box or umbrella. Lorraines images feature her trademark elaborate styling, fashion and props – many of the costumes were sourced on eBAy or charity shops and getting a "decent pair of Fallen Angel wings" was difficult and expensive.
The sourcing of locations from her kitchen for her A panel to studios such as Back Loft in Dublin, period houses around Leinster, and as far away as Portugal for Joan of Arc was also summarised.Check out her interpretations of Marie Antoinette, Madame Butterfly, Nefertiti Delilah, the New Wife and rest of the royal court at the links above.