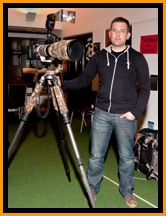 At our Monday, 30 April Club Meeting, Mark Carmody spoke to us about his development as a bird and wildlife photographer starting with early efforts in his hometown of Cobh in the 1980's, followed by major increase in his interest during a three year stint working in Japan in the noughties.
His current work in Ireland has led to the publication, with his uncle Jim Wilson, of Shorebirds of Ireland and Freshwater Birds of Ireland. He emphasised the importance of concentrating on a specific project, knowing birds' habits and behaviour, the use of hides . . . and lots and lots of waiting!
He is pictured here with his Canon 500mm lens combined with a flash extender that lights up dimly lit birds at long range – more info here and here.
Check out his website and his Flickr page.