Club Event – Offshoot Annual Exhibition 2016 (19 April – 16 May)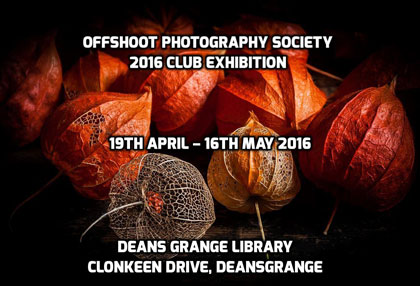 Once again, we have obtained 4 weeks for our Exhibition at Deansgrange Library. We would like to see all members, old and new, avail of this fantastic opportunity to display their images in public.
The official opening is at 7pm on Tuesday 19th April.
We urge everybody to enter at least one picture, though we would like you to submit two of your favourite images, and can guarantee that at least one of them will be displayed.
This is an ideal opportunity to show our work to the general public and gain a little publicity. Remember, this is not a competition, It's open to all, and in addition it is the chance to get one or two of your favourite images expertly printed and framed (20" X 16") in white by Steve, at a very reasonable price.
Submitting your entry is easy. All you need to do is select the 'Image Uploads' item from the menu above. You will need to login to the site. If you cannot remember you login then use the 'Forgotten Password' feature entering the email you receive the Newsletter on. You will received an email with a link to reset the password. If you have any issues please contact webmaster@offshoot.ie.
The guidelines for the Exhibition images are simple:
Images must be of high resolution with no water marks etc.
The file names should contain 'Exhibition-your name -Title'. eg. Exhibition-DavidWhitaker-Sugar loaf.
Dermot (Club Treasurer) will collect payment from you directly.
Do not send images directly to Steve, they will not be printed.
As you can appreciate, the printing and framing of such a large number of pictures is a huge task, and to give Steve time to do this, all our submissions must be in by Wednesday 30th March.
Please, please make every effort to show a sample of your work, then after the exhibition, which will run until Monday May 16th, you will have your favourite image(s) framed and ready for your wall, or you may use the frame for other images. (Please remember to collect your images from David & Tony at this stage.)
For now though, the magic date to remember is MARCH 30th, the closing date for entry.
Looking forward to admiring your work.