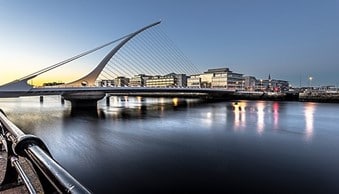 Club Outing – Sunset at Samuel Beckett Bridge
Meeting place: Sir John Rogerson's Quay.
Time: 8.30 pm
The Samuel Beckett Bridge:
Constructed by a "Graham Hollandia Joint Venture", the main span of the Samuel Beckett Bridge is supported by 31 cable stays with decking provided for four traffic and two pedestrian lanes. It is also capable of opening through an angle of 90 degrees allowing ships to pass through.
The bridge, which cost €60 million, is named for Irish writer Samuel Beckett. It was officially opened to pedestrians on 10 December 2009 by Dublin Lord Mayor, Emer Costello and to road traffic at 7 am the following day.
Sunset = 9.35pm, High Tide = 9.34pm
For more details contact outings@offshoot.ie.
SAFETY ON OFFSHOOT OUTINGS AND EVENTS
It's easy to become distracted when taking photographs. Use common sense, take responsibility for your own safety and then go shoot and have fun.
Next Event
Date

07 Oct 2023

Time

10:30 am - 2:00 pm
Follow Us
Archives
Categories