Club Outing – Dalkey Island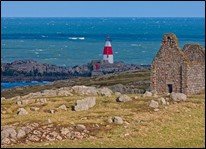 Dalkey Island, meaning 'Thorn Island', was home to some of the first Stone Age settlers on the east coast of Ireland. There is evidence of activity from the Neolithic and Bronze Periods. Arrowheads, axes and pottery from these periods have been discovered during the archaeological excavations of the island. Uncovered evidence from later periods revealed 5th and 6th Century glass from Belgium and France, English pottery and an 11th Century silver coin from Normandy. There are also signs that the island was once used for farming.
The Martello tower on Dalkey Island is one of the most recognizable landmarks on the Dublin coastline. It was built on a high point of the island and was intended to work in tandem with the battery built at the south end of the island to command a vessel's approach to Dublin Bay and anchorage in Dalkey Sound. Saint Begnet's Church and its burial ground occupy a prominent position overlooking Dalkey Sound. The church, like that in the town of Dalkey, is dedicated to Saint Begnet. The church was partially re-modelled in the early nineteenth century to house workmen engaged in the construction of the Martello tower and battery. Wildlife you can expect to see include arctic terns, rabbits, seals and goats.
Please note that this outing is weather dependant
We will meet at Coliemore Harbour at 10.15 am
The return boat trip costs €10
For more details contact outings@offshoot.ie.
SAFETY ON OFFSHOOT OUTINGS AND EVENTS
It's easy to become distracted when taking photographs. Use common sense, take responsibility for your own safety and then go shoot and have fun. Please note the society's COVID-19 Protocols in place for Outings and Events.
Next Event
Date

09 Dec 2023

Time

3:00 pm - 6:00 pm
Follow Us
Archives
Categories