Club Outing – Tinahely Point to Point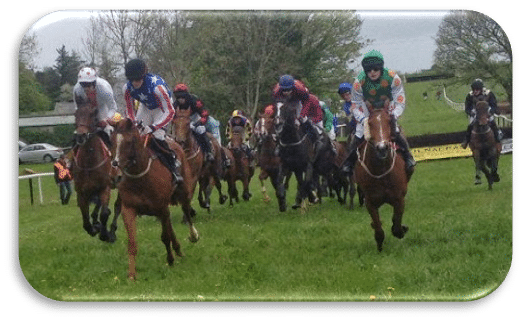 This isn't the Curragh or Leopardstown; it's horses racing over fences across fields. Facilities are basic but from our viewpoint, there is access to all areas – well almost.
The first of six races is at 1.00 pm. Please meet at 11:30 at Murphy's Hotel, Dwyer Square, Tinahely village for a bite to eat before going to the P2P. The journey to Tinahely will take you just over 1½ hours and when you get to Tinahely the course is about 10-15 minutes away. There is a €10 entrance fee.
Location: https://goo.gl/maps/izfqsLCnjXnfQPJn8
You will need a telephoto lens preferably with a minimum of 70-200mm and a general-purpose lens for saddling/enclosure/punters. A monopod will help and raingear, warm clothing and a pair of stout shoes or wellington boots. Bring a change of footwear as it will be very muddy!
For more details contact outings@offshoot.ie.
SAFETY ON OFFSHOOT OUTINGS AND EVENTS
It's easy to become distracted when taking photographs. Use common sense, take responsibility for your own safety and then go shoot and have fun.
Next Event
Date

07 Oct 2023

Time

10:30 am - 2:00 pm
Follow Us
Archives
Categories