Club Outing – Victor's Way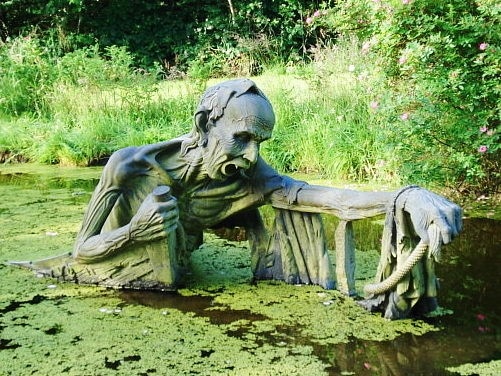 Victor's Way was designed as a contemplation (or meditation) space for adults between the approx. ages of 28 and 65 who feel the need to take some quality time out for R&R&R (i.e. rest, recovery & spiritual reorientation). The garden contains 7 major and 37 minor black granite sculptures. It took 25 years to complete. The major sculptures represent 7 development stages of life. Victor's Way also offers the opportunity for forest bathing. All the sculptures were designed in Roundwood and then hand-cut in a dedicated workshop in Mahabalipuram in South India.
Victor's Way is not a fun park for families. Ideally, chatty companions, children and dogs, all of which disrupt the peace and quiet of the contemplative ambience, should not be brought. Here the use of mobile phones (save for photography) is an absolute no-no. Ideally, the visitor should slow down to half or quarter normal walking speed. Ideally, the visitor should sit down on the benches provided and absorb into his or her inner (future, hence perfect) world and/or the serene forest atmosphere. The garden covers some 20 acres. The contemplation path is 2kms long. Hence it takes at least 1 hour to get around.
There are several unsecured ponds, meaning that extreme care should be taken if you do bring children. Unless the weather is perfect, wearing outdoor clothes and watertight shoes is a must.
From Dublin take the N11 south towards Wicklow. Turn right at Kilmacanogue towards Glendalough. After about 7 miles turn right towards Sally Gap (Route 759). At the first crossroad (after 600 yards) turn left towards Roundwood. You'll find the Indian Sculpture Park @ Victor's Way, 300 yards up the road on the left.
Admission is €5 per adult. Victor is usually outside by the small shed where you pull up to and if he is not there he is probably out within the park; Use the Honesty Box.
We will meet at 12.30 pm
For more details contact outings@offshoot.ie.
SAFETY ON OFFSHOOT OUTINGS AND EVENTS
It's easy to become distracted when taking photographs. Use common sense, take responsibility for your own safety and then go shoot and have fun.
Next Event
Date

03 Jun 2023

Time

9:15 pm - 11:00 pm
Follow Us
Archives
Categories